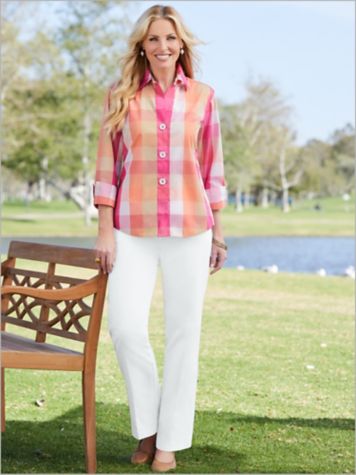 Sunrise Plaid Shirt & Classic Comfort® Pants
$19.99 - $99.99
$12.97 - $99.99
---
Description
Our closet has seen many plaid shirts. But none are as sunny and pretty as this wrinkle-free Foxcroft shirt. Paired with crisp white pants, it's a look that pops with color and charisma.
Items in This Collection
---
Foxcroft Sunrise Plaid 3/4 Sleeve Shirt
Item Number: D25103
Description
Tickled pink. That's how you and your iron will feel about this wrinkle-free checked shirt from Foxcroft. Because it barely creases, it washes and wears without a care. Which means your iron can take a break and you can smile knowing you look great. Styled with a back yoke, button front, ¾ sleeves with turnback slit cuffs, a curved hem, and side slits. Hits at hip.
Neckline: Button-Down
Sleeve Length: 3/4 Sleeve
Length: Misses 27''; Peties 25''; Women's 29''
Content: 60% Cotton/40% Polyester.
Care: Machine wash.
Origin: Imported
---
Classic Comfort® Straight Leg Pull-On Pants
Item Number: DA02019
$49.99 - $55.99
$12.97 - $55.99
Description
Not only are these best-sellers adored for their great look and fit, but also for their incredible value. You won't find better-designed pants at a lower price. Day in, day out, nothing compares to their classic good looks and dependable comfort. Styled with side seam pockets.
Waist Style: Pull-On
Length: Inseam: Misses & Women's 30''; Petites 28''; Petite Short 26''
Content: 60% Cotton/40% Polyester
Care: Machine wash.
Origin: Imported
---
Mini Bon Bon Necklace
Item Number: D1E054
Description
Chic. Regal. Elegant. This jewelry collection checks all the beautiful boxes. Woven bon bon charms are stationed with gold balls. Double strand necklace.
Length: Measures 20'' with a 2'' extender
Origin: Imported
---
Mini Bon Bon Earrings
Item Number: D1E055
Description
Made to wear with the Mini Bon Bon Necklace.
Length: Measure 2''
Origin: Imported
---
Kendal Ballet Flats by Hush Puppies®
Item Number: D0A546
Description
Made from a soft and stretchy leather, these comfort flats from Hush Puppies® are the secret to looking polished and chic. Soft and resilient Polyesterurethane footbed provides energy with every step. Forms to your foot perfectly for the ultimate comfort. Spandex Lining. Molded rubber outsole provides excellent traction and durability.
---