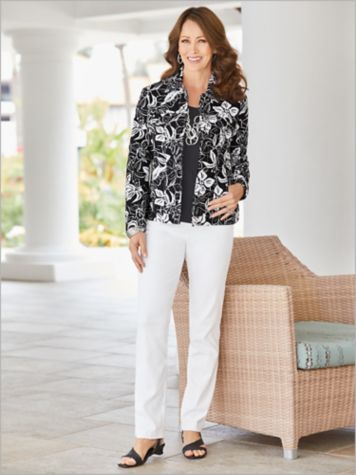 Hibiscus Jacket & Slimtacular® Pants
$19.99 - $79.99
$4.97 - $65.99
---
Description
You can never go wrong in classic black and white. But when you add an aloha print, you get a look that's completely beach chic. Outfit includes the Hibiscus Jacket, Essential Jacket, Mesmerizing Metal Jewelry, and Slimtacular&174; Pants.
Items in This Collection
---
Hibiscus Jacket
Item Number: D31601
$69.99 - $79.99
$49.99 - $59.99
Description
We took the silhouette of your favorite ''jean style'' jacket and set it on a tropical cruise. It came back looking beach-chic and ready for stylish adventures. Designed in a textured woven pique fabric. Tropical floral print. Yoke. All-over seaming. Faux button flap pockets at chest. Long sleeves with button cuffs. Side pockets. Artistic floral buttons. Hits at hip.
Neckline: Button Front
Sleeve Length: Long
Length: Misses 25''; Petites 24''; Women's 27''
Content: 100% Cotton
Care: Machine wash.
Origin: Imported
---
Basic Cotton Poly Tank Top
Item Number: D04787
$19.99 - $24.99
$4.97 - $19.99
Description
This tank is so essential, every closet needs three or four. Styled with a jewel neck and side slits. In coordinating solids. Hits at hip.
Neckline: Jewel
Sleeve Length: Sleeveless
Length: Misses 24''; Petites 23''; Women's 26''
Content: 60% Cotton/40% Polyester
Care: Machine wash.
Origin: Imported
---
Slimtacular® Straight Leg Pull-On Pants
Item Number: M32708
$69.95 - $75.99
$20.97 - $65.99
Description
These slenderizing pants are part of our Slimtacular® collection, and are loved by our customers for their fabulous fit. What's their secret? It's our exclusive stretch technology and the fantastic way they slim your silhouette. Plus, they were made to be worn with every top you own, making them the most popular pants in your closet. With a pull-on fit, all-around hidden elastic waistband, faux front pockets, and side slits at each hem.
Waist Style: Pull-On
Length: Inseam: Misses & Women's 30''; Petites 28''; Petite Short 26''
Content: 75% Rayon/20% Nylon/5% Spandex
Care: Machine wash.
Origin: Imported
---
---
Mesmerizing Metal Necklace
Item Number: M3E850
Description
The triple strand Mesmerizing Metal Necklace is lightly frosted with diamond dust, giving the free form steel links their shimmery glow. Measures 30'' to 36''. Imported.
---
Mesmerizing Metal Earrings
Item Number: M3E851
Description
The Mesmerizing Metal Earrings are cast in zinc, and shine with their own radiance thanks to a crystal glass stone. Measures 1¾''. Imported.
---