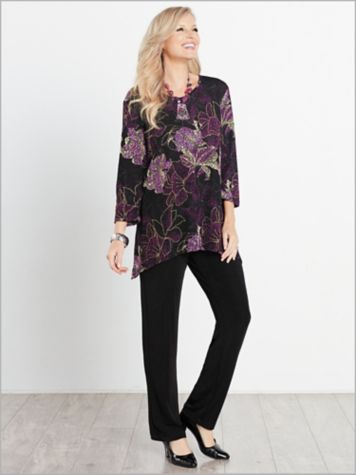 Floral Textured Print Tunic & Signature Knits® Pants
$19.99 - $77.99
$7.97 - $77.99
---
Description
And you thought you were charming? Wait until you meet this look's fun and vibrant personality. Outfit includes the Floral Textured Print Tunic, Signature Knits® Pants, and Work Of Art Jewelry.
Items in This Collection
---
Floral Textured Print Tunic
Item Number: D34256
Description
Touches of gold foil bring a warm glow to a floral jacquard pattern. Styled with a V neckline and ¾ sleeves. Hem dips slightly on both sides. Length: Misses 28''; Petites 26''; Women's 29''. Imported. Polyester/spandex. Machine wash.
---
Signature Knits® Straight Leg Pull-on Pants
Item Number: M12288
$69.99 - $77.99
$34.97 - $77.99
Description
For town or travel. Light and wrinkle free, they're slenderizing yet so comfortable, with a sleek and stretchy texture. Sleek hidden elastic waistband gives a smooth fit. No one will guess they're pull-on pants.
Waist Style: Pull-On
Length: Inseam: Misses & Women's 30''; Petites 28''
Content: 95% Acetate/5% Spandex
Care: Machine wash.
Origin: Imported
---
Black Deanna Pumps by Soft Style®
Item Number: D0A088
Description
The perfect finish for all your elegant ensembles. This classic round toe pump offers a flash of stylish brilliance with metal trim at the heel. Easy, all-day comfort comes courtesy of the softly padded footbed. Stable, sturdy heel measures 14''. Imported. Patent faux leather.
---
Work Of Art Necklace
Item Number: M2E020
Description
A necklace of beads, hoops, and baubles suspends a stylized pendant with a swirl design. 16'' with 3'' extender. Imported.
---
Work of Art Clipped Earrings
Item Number: M2E021
Description
Matching dangle earrings. Imported.
---
---