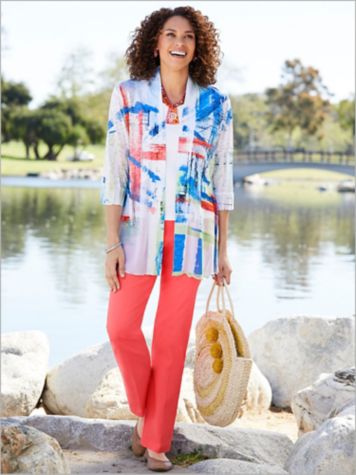 Bright Colors Print Jacket & Slimtacular® Pants
$19.99 - $99.99
$4.97 - $99.99
---
Description
Go all-out gorgeous with this jacket's bold splash of colors. They're made to match the delicious shade of the Slimtacular® Pants. Outfit includes the Bright Colors Print Jacket, Work Of Art Jewelry, and Slimtacular® Pants
Items in This Collection
---
Bright Colors Print Jacket
Item Number: D31772
Description
Dress it up or go casual, this charming jacket is also very versatile. With an all-over abstract pattern in an array of happy shades, we give you full permission to wear it your way. Styled with an all-around abstract print, an open front, and ¾ sleeves. Hits below hip.
Neckline: Open Front
Sleeve Length: 3/4 Sleeve
Length: Misses & Women's 31''; Petites 28''
Content: Knit: 77% Polyester/23% Rayon; Chiffon: 100% Poly.
Care: Machine wash.
Origin: Imported
---
Basic Cotton Poly Tank Top
Item Number: D04787
$19.99 - $24.99
$4.97 - $24.99
Description
This tank is so essential, every closet needs three or four. Styled with a jewel neck and side slits. In coordinating solids. Hits at hip.
Neckline: Jewel
Sleeve Length: Sleeveless
Length: Misses 24''; Petites 23''; Women's 26''
Content: 60% Cotton/40% Polyester
Care: Machine wash.
Origin: Imported
---
Slimtacular® Straight Leg Pull-On Pants
Item Number: M32708
$69.95 - $75.99
$20.97 - $75.99
Description
These slenderizing pants are part of our Slimtacular® collection, and are loved by our customers for their fabulous fit. What's their secret? It's our exclusive stretch technology and the fantastic way they slim your silhouette. Plus, they were made to be worn with every top you own, making them the most popular pants in your closet. With a pull-on fit, all-around hidden elastic waistband, faux front pockets, and side slits at each hem.
Waist Style: Pull-On
Length: Inseam: Misses & Women's 30''; Petites 28''; Petite Short 26''
Content: 75% Rayon/20% Nylon/5% Spandex
Care: Machine wash.
Origin: Imported
---
Work Of Art Necklace
Item Number: M2E020
Description
A necklace of beads, hoops, and baubles suspends a stylized pendant with a swirl design. 16'' with 3'' extender. Imported.
---
Work of Art Clipped Earrings
Item Number: M2E021
Description
Matching dangle earrings. Imported.
---
---
Kendal Ballet Flats by Hush Puppies®
Item Number: D0A546
Description
Made from a soft and stretchy leather, these comfort flats from Hush Puppies® are the secret to looking polished and chic. Soft and resilient Polyesterurethane footbed provides energy with every step. Forms to your foot perfectly for the ultimate comfort. Spandex Lining. Molded rubber outsole provides excellent traction and durability.
---