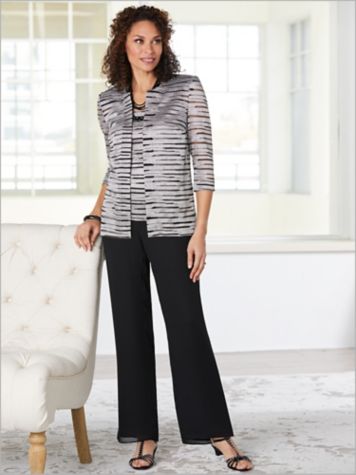 Alex Evenings Sparkle Stripe Twin Set & Georgette Slim Leg Pants
---
Description
Shimmering stripes line up in your favor for creating style with gorgeous sophistication. Special occasions outfit includes the Sparkle Stripe Twin Set by Alex Evenings, Georgette Slim-Leg Pants, Night Diving Jewelry, and Flair Sandals.
Items in This Collection
---
Sparkle Stripe Twin Set by Alex Evenings
Item Number: D31643
Description
Feminine. Polished. Perfect. Everything about this special occasion twin set shines a light on your spectacular style. Designed in a textured sparkle knit with stripes. Styled with an optional neckline closure. Includes a matching tank. Hits at hip.
Neckline: Jewel
Sleeve Length: 3/4 Sleeve
Length: Misses & Women's 25''
Content: 69% Polyester/29% Nylon/2% Spandex.
Care: Hand wash.
Origin: Imported
---
Special Occasion Georgette Slim Leg Pull-On Pants
Item Number: M22318
Description
These essential party pants are the perfect foundation for glamour, ready for both sophisticated or casual elegance. Elasticized waist. Lined.
---
Night Divine Necklace
Item Number: M4E096
Description
Multi strands of black glass beads will be adored for their vintage inspiration. 20'' with a 2'' extender. Drop earrings measure 1½''. Imported.
---
Night Divine Earrings
Item Number: M4E095
Description
Drop earrings have an open center diamonds in gold combine with the mystique of tawny colored beads. Measure 1½''. Imported.
---
Flair Sandal-Medium width
Item Number: M0A103
Description
Putting your best foot forward will now also be your prettiest. These strappy sandals feature fancy rhinestone flair, as well as a low, sturdy heel to ensure steady balance. Padded footbed for ultimate comfort. Buckle closure around the ankle. 1'' heel. Imported.
---